22 November, 2016 : San Martín de los Andes
Finally home. Surprisingly, our eventual itinerary bears a surprising similarity to our original plan.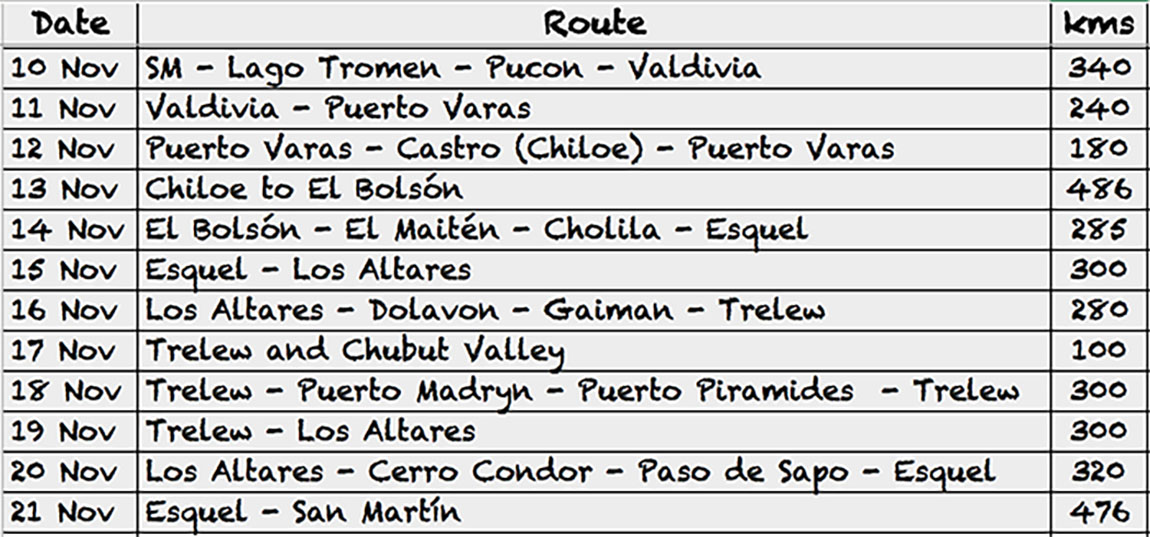 We spent 12 days on the road and travelled a total distance of 4,517 kilometres (2806.73 miles. Our average km per litre was 7.46 (21.07 mpg) – but this varied enormously day on day according to road surface (Silver has a six cylinder 4.1 litre appetite) which was miraculously exactly the same on my Ruta 40 (South) trip in 2014.
We kept mostly to tarmac, with about 20% of gravel roads, and engaged 4WD twice only; once on an iffy, gravelly mountain road and once when Martin reversed into a ditch.
We slept 4 nights in hotels, 4 in self-catering apartments, 1 in a motel, 1 in a bungalow and 1 in a purple cabin.
We concluded that WiFi in Patagonia is mostly crap and that finding a cash dispenser that works is like looking for gold.
We bought books on Butch Cassidy and Birds in Chile, a Welsh teapot with hand-knitted tea cosy and a 'torta negra galesa' (the Patagonian version of a Welsh fruit cake)  in Trelew and Gaiman, straw birds from Chiloe, a teeshirt from the paleontological museum in Trelew and a bunch of other stuff
We saw penguins, sea lions, seals, dolphins, elephant seals, rheas, armadillos, guanacos, red foxes, grey foxes, hares, rabbits, a mink, a number of lizards and maybe a pudu.. Lots of birds too (Caroline spotted an owl and took her first bird photo) but this was not a birding trip. Sadly we missed the whales and orcas (and the killer bunnies), but it's good to have a reason to go back (as if we needed one).
We have travelled through snowcapped mountains, forests, lush green pastures and deserts, and have seen the rising and setting sun on both the Atlantic and Pacific coasts
Miraculously, we seem to have kept our total costs within budget.