The village of Copahue can be found in the Andes, some 2000 metres above sea-level and set in a wild landscape moulded by storming winds, creeping glaciers and endless volcanic eruptions. Today it is known for its thermal springs. Here is a legend of how it got its name.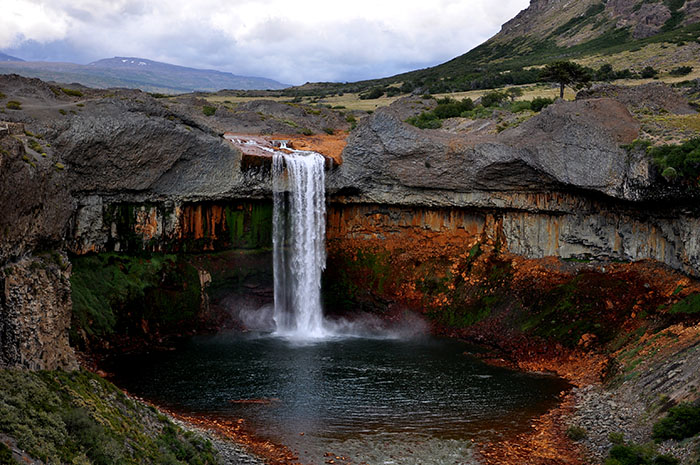 There was once a people who lived high in the Andes. Theirs was a peaceful land, and little ever happened to disturb the tranquillity of the region.
The chieftain of this tribe had a young son called Copahue. One day, bored with life, Copahue decided to explore what lay beyond the mountains where he lived. He gathered together a few friends and set out in search of adventure.
On the morning of the third day Copahue left the others and went for a walk in a leafy forest near where they had camped. Through the trees he saw a crystal blue lake, and swimming in it, all alone, was the most beautiful girl he had ever seen. Tall and slender, she had shining black hair that reached to her waist. He stood, watching her, mesmerised. She saw him, smiled, came modestly out of the water and walked towards him.
Little did Copahue know, nor could,  that this lovely apparition was in fact a witch, who had guided Copahue to this place with a charm. In his love and ignorance Copahue fell head-over-heels in love with her and, surprisingly, she fell in love with him too. Love conquers all, and in this case it transformed the witch's evil intentions into those of a normal human being.
Their love was real, and Copahue and the beautiful girl, who not only had long dark hair but also had flashing black eyes to match, decided to get married. But when they heard of this the other people of the tribe were against the union. For them the girl was an outsider, and they feared the unknown. A meeting of the elders was called, and they forbade the marriage on pain of death.
The two young people didn't care. They were in love, and that was all that mattered to them. So they disobeyed the tribal elders and got married anyway. But punishment was at hand, and even though Copahue's son was the chief of the tribe justice must be met. After a second, brief meeting of the elders Copahue was condemned to death for disobeying the orders of his father and the elders. He was dragged from his home to the edge of the village and hanged from the branch of an algarrobo tree.
On hearing his sentence his young wife had run away; there was no place for her there now. She ran and ran and ran, until she found herself back by the lake where they had met. Here she sat down and started to cry.  Her tears fell into the lake, and immediately the water started to turn yellow, and then to boil. A horrible, sulphur like smell filled the air. The girl, who was a witch we should perhaps remember, threw herself into the steaming pool and was seen no more.
Today this place is called Copahue, and can be found in Ñorquín, in the north of Neuquén Province. If you find yourself there some time enjoying the thermal springs, do remember the fate of Copahue and the girl he loved.
.