I took four days off to visit Chile, scheduling two nights on the Pacific coast and one in the Parque Nacional Puyehue. On the Pacific coast I stayed at Bahía Mansa (visiting the uncommercialised villages of Pucatrihue, Maicolpue and Trill Trill). On the third night I stayed on the shores of Lago Puyehue, within striking distance of the entrance to the National Park at Aguas Calientes.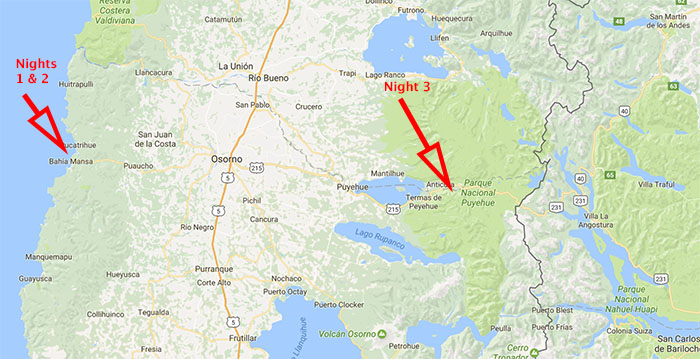 The weather was absolutely appalling, with only occasional patches of viable light. Using these I managed to get a few shots, but only two lifers: the choroy (slender-billed parakeet), Enicognathus leptorhynchus, and the remolinera araucana (Dark-bellied Cinclodes), Cinclodes patagonicus.
On the first day I had the good luck to see a couple of Pudu, the smallest deer in the world. Apologies for cruddy photo: I was so excited when I saw them, and had so little time to grab a shot that I forget that I had been shooting video and didn't reset the camera to photo – result, very artistic but not very clear. It wasn't helped by heavy rain either.  I was very lucky to see these creatures; they are classified as endangered on the IUCN Red List and are not at all easy to find.
The first set of photos is from the coast. I'm not too sure why this carancho is paddling around on the shoreline; perhaps he has aspirations to become a wader.
The weather in the Puyehue National Park was pretty much unforgiving. I did drive up to a volcanic crater but it was cold, wet and misty, with little to see. A highlight was at the bridge on the way in, where I saw a family of torrent ducks working their way down the river.
Although I was familiar with the Austral Thrush I had not seen such splendidly coloured juveniles before.
Finally, as I was leaving, I saw a delicately woven humming birds nest – a slim canister in a place that was very hard to get a lens into – it's amazing how these tiny little things already have the long beaks they will need to feed themselves. They are the picaflor rubí (Green-backed Firecrown), Sephanoides sephanoides
Despite the weather, it had been a worthwhile trip.